OUT OF AFRICA
A STELLAR ITINERARY
Meryl Streep and Robert Redford starred together in Sydney Pollack's 1985 masterpiece, Out of Africa, the Academy Award-winning movie that used the natural beauty of Kenya as a backdrop for an epic love story, based on Karen Blixen's bestseller. In many cases, Out of Africa was filmed at the very locations where the real events actually took place; it is still possible to visit some of them today.
The movie, Out of Africa, is based on the life of Karen Blixen, a Danish noblewoman who spent a great part of her life running a coffee plantation in Kenya, and on her love affair with the aristocratic big-game hunter Denys Finch Hatton. The film went on to win seven Oscars when it was released on December 18, 1985 and inspired and awoke a desire in many to experience a true Kenyan safari.
Stars of Africa has designed a unique Stars of Africa Out of Africa experience, which takes place in the most quintessential Kenyan setting; combining diverse wildlife, dramatic scenery, fascinating cultures and valuable conservation efforts.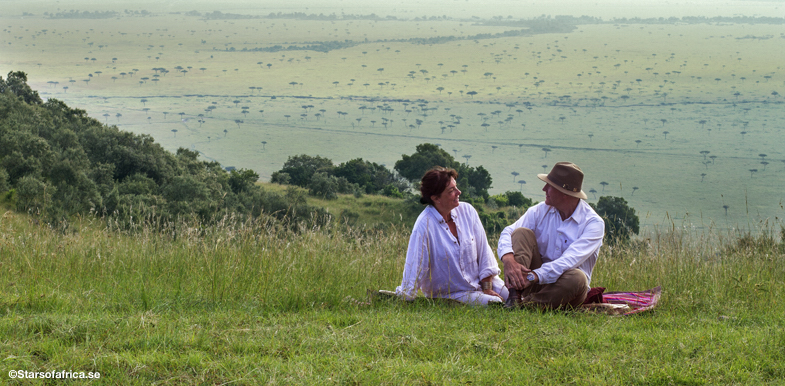 LET YOUR OUT OF AFRICA ADVENTURE BEGIN
On arrival at Jomo Kenyatta International Airport, you will be warmly greeted, and directly transferred to Wilson, the domestic airport, from where your journey truly begins as you fly by private charter over stunningly beautiful rolling hills and tea plantations up to Laikipiea Plateau – where woodlands, grasslands and fertile riverbeds nestle between the iconic Mount Kenya and the Great Rift Valley. Touch down is after a 45-minute flight at Segera Retreat's private airstrip just north west of Mount Kenya.
SEGERA RETREAT
Your first three days will be spent on a 20,000 hectares, or 55,000 acre, ranch, three times the size of Manhattan; Segera Retreat, owned by the determined conservationist Jochen Zeitz. Your home will be in one of the beautiful six private timber and thatched villas raised above a profusion of flora, offering a perfect vista out onto the wild African savannah. This is an extraordinary oasis of charm and beauty.
A short drive from your villa retreat is a small aircraft hangar. As the doors are pulled back, and the sunlight rushes in, you will see a small shiny custard-yellow two-seater aircraft. This is the G-AAMY, the original 1929-model Gipsy Moth biplane used in Out of Africa. Sold to Zeitz at a Paris auction in 2013, this very biplane was flown for approximately 50 hours during the filming creating some of the best-known scenes in the film, including the image of the biplane rousing an enormous flock of pink flamingos. It soared above dramatic landscapes in the movie and became the most recognized feature of Denys Finch Hatton and Karen Blixen's passionate romance. The safaris, Finch Hatton's biplane and the epic scenery captured the imagination of cinema lovers all over the world.
Fitted with a new Australian-built engine, the plane occasionally soars again over Kenya's landscape, flown by Zeitz, whose dream it was to return the plane to Africa.

Jochen Zeitz also has a beautiful collection of Out of Africa media pack along with unpublished photographs of Karen Blixen as well as diaries and letters, all on display at Segera.
Segera Retreat is not an easy place to leave. It is exclusive, with views towards majestic Mount Kenya, a renovated stable that doubles as a bar and contemporary art gallery, a botanical tropical garden with lush exotic native plants fitted with an impressive African contemporary sculpture collection, the magical wildlife of Laikipiea as well as fantastic cooking that results in healthy, fresh culinary dishes. But it is now time to depart from the private airstrip, to fly to the legendary Maasai Mara for a quintessential African safari encompassing abundant wildlife, endless grassy plains and towering escarpments: today you will be flying for approx. 45 minutes from Segera Retreat in Laikipia to Angama Mara in the Maasai Mara.
ANGAMA MARA
You will land with your private charter plane at Angama Mara's private airstrip right on top of the Oloololo Escarpment perched on the rim of the Great Rift Valley, overlooking the exclusive Mara Triangle with its vast amount of wildlife.
This outstanding family-owned and managed lodge is located in one of Africa's most spectacular spots, built by legendary visionaries Nicky and Steve Fitzgerald, pioneers in African tourism. The innovatively designed lodge is extraordinary; combining elements of local Maasai architecture, colonial era design and Modernist influences, giving Angama Mara its very own tangible identity. Your home for the next four days boasts some great design, here you will find stunning good taste permeating every single detail of the lodge; the wonderful staff are the embodiment of superb hospitality, and you will enjoy fantastic fresh, modern cuisine. And then, of course, there is the prolific wildlife of the Mara – along with the outstanding location.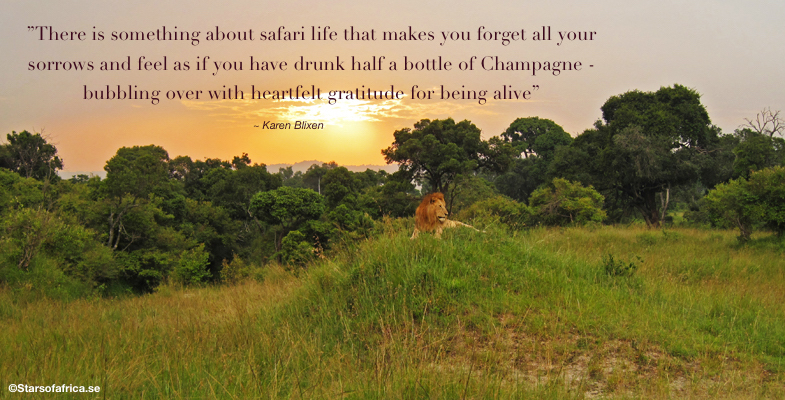 Little has changed in this quiet corner of the Mara since director Sydney Pollack filmed the scenes in Out of Africa in 1985. Angama offers subtle winks to Out of Africa, without nostalgically forcing the point. Just a five-minute walk from Angama lies the romantic picnic spot featured in the movie. On one of your days will arrive to a warm welcome from your butler who will help settle you in, and, before you know it, you will find yourself lounging on a picnic blanket on the crest of the kopje, overlooking the golden hued savannah of the Mara Triangle, exactly on the spot where Meryl Streep, playing Karen Blixen, and Robert Redford, playing her lover Denys Finch Hatton, posed for the iconic film poster. Your butler will also be able to point out the exact spot where Finch Hatton was buried in the film, although in reality he is buried in Nairobi.
The following day you will head out together with your private guide to the Mara River and Mara Enkipai, a 45-minute drive away. This stone house and camp was where Maasai anthropologist, Jacqueline Roumeguere-Eberhardt, lived for 27 years, and is also where the most romantic Out of Africa scenes were shot – when Robert Redford massaged shampoo into Meryl Streep's hair, rinsing it with water from an enamel jug, while reciting lines from Coleridge's "The Rime of the Ancient Mariner".
Just like Denys Finch, Hatton and Karen Blixen, you will have the opportunity to go on a magnificent Kenyan safari. A short 15-minute drive along a private track from the lodge, down the escarpment, and you will find yourself in the Mara Triangle, and its plethora of wildlife. The Maasai Mara Nature Reserve is home to a massive number of resident wildlife, as well as the annual Great Migration.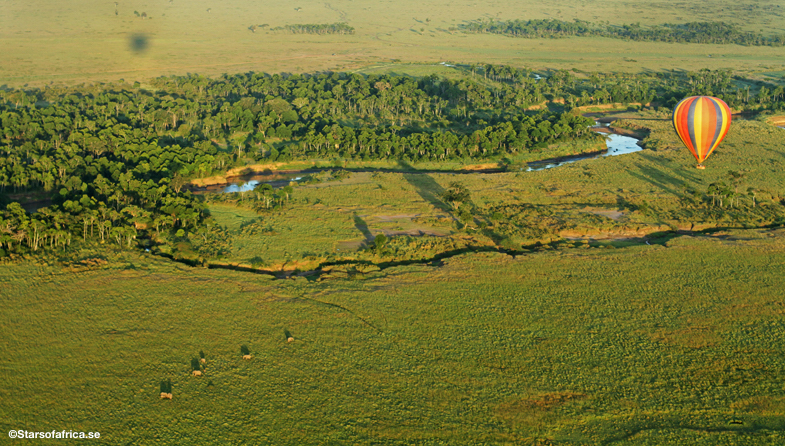 At Angama Mara, it is the view that dominates and impresses. At more than 300 meters, 1,000 feet, above the Great Rift Valley, Angama's view is so wide and everlasting that we guarantee it will take your breath away and give you a new perspective. You will find yourself looking down at the hot air balloons, silently drifting by in the very first morning light, with a champagne breakfast for the passengers to enjoy on landing. We are very happy to arrange a flight for you, should you like to include this spectacular experience in your itinerary.
After four nights, it is time to depart back to Nairobi to complete the Out of Africa homage, where there is just one more must-see waiting to be explored, the Karen Blixen Museum.
HEMINGWAYS NAIROBI
After your flight from Angama Mara's Air strip to Wilson Airport, you will be transferred to the beautiful, plantation-style, designed Boutique Hotel Hemingways Nairobi, located in the quiet Karen district of Nairobi, an area named after Blixen.
From here it is a mere 10-minute drive to the museum – Karen Blixen's former house – where you can admire her paintings, Louis Vuitton suitcases and black and white photographs of Blixen with her friends. The next stop is Finch Hatton's grave, in the beautiful Ngong Hills. Blixen describes the air here, 300 meters, 1 000 feet, higher than her home in one of her letters as "clear as a glass of water" with "light sweet winds". After Finch Hatton's death, Blixen placed a white sheet on his grave so she could always see it from her house. On the tomb is a plaque that reads: "He prayeth well, who loveth well / Both man and bird and beast." These are the lines from Coleridge's "The Rime of the Ancient Mariner" recited by Redford in the famous hair-washing scene. Reading them, you might find yourself transported back to the Kenyan savannah in the spirit of the famed Out of Africa.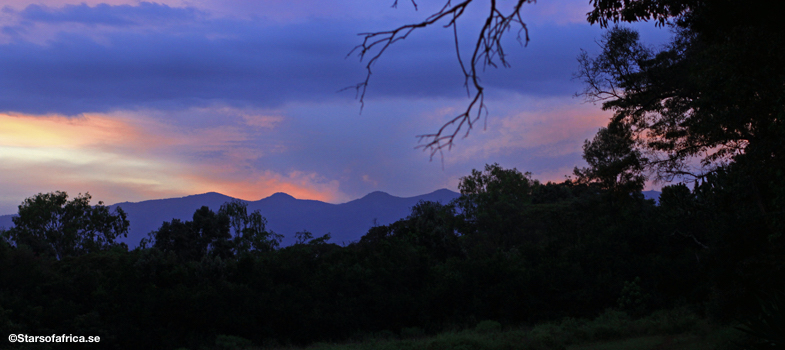 Your Out of Africa adventure has now come to an end – and it is time to fly home filled with impressions and memories to treasure for a long time. But as much as your journey is an adventure, we are positive the African wilderness will also have enticed you into succumbing to some invigorating moments of peace and tranquillity.
You will be transferred to Jomo Kenyatta International Airport on the day of departure. Should you wish, we would be happy to extend your safari adventures, or add on a trip to Zanzibar or the Seychelles for some relaxing days on the beach, under the Stars of Africa.
SUGGESTED ITINERARY AT A GLANCE
Day 1: Meet and greet at Jomo Kenyatta International Airport; private transfer to Wilson Airport; private charter from Wilson Airport to Segera Retreat Laikipia.
Segera Retreat: three nights on an all-inclusive basis – all meals and local drinks, standard retreat activities including game drives, guided walks, community-based activities.
Day 4: Private charter from Segera Airstrip, Laikipia to Angama Mara Airstrip, Maasai Mara.
Angama Mara: four nights on an all-inclusive basis – all meals and local drinks, laundry, activities including safaris into the Mara triangle, and walking safaris on the escarpment and a private spectacular Out of Africa lunch.
Day 8: Private charter flight from Angama Mara Airstrip, Maasai Mara to Wilson airport, Nairobi; private transfer from Wilson airport to Hemingways Nairobi.
Hemingways Nairobi: two nights, bed and breakfast. Excursion with a private vehicle for a full day's tour of Nairobi.
Day 10: Private transfer from Hemingways Nairobi to Jomo Kenyatta International Airport.
This 10-day Stars of Africa Out of Africa itinerary is based on two people sharing a twin/double room and is priced in USD per person depending on season. It includes accommodation, transfers, bed and breakfast at Hemingways Nairobi and full board at Segera Retreat and Angama Mara. Terms and Conditions apply. Subject to availability. Exclusions: International flight to and from Jomo Kenyatta International Airport in Nairobi.
We look forward to hear from you and start to tailor a detailed, personalized Stars of Africa Out of Africa itinerary based on your preferences.
Discover More Stellar Itineraries