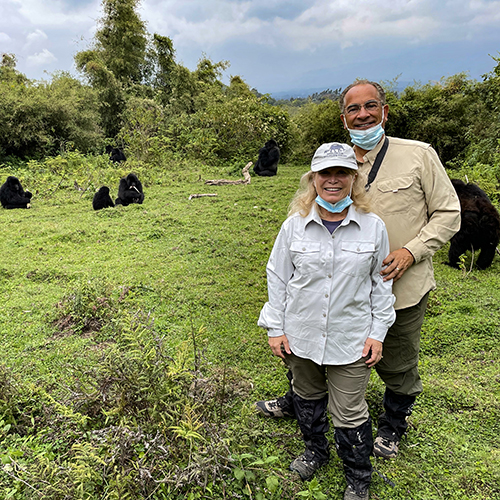 Yvonne & Bert Rankin, San Francisco – USA
RWANDA, KENYA & ZANZIBAR – RETURNING TO THE MAGIC OF AFRICA
Anna and her Stars of Africa did it again! The trip she coordinated for our second trip to Africa, like our first trip, could not have been more perfect! The moment we returned home from our first trip to Africa; South Africa, Botswana and Kenya, we knew we had to return, it was so life-changing. We once again put our trust in Anna to arrange our next adventure.
Our return to Africa was not only magical and stress free, but transformative. Every detail was thought through; nothing was left for us to figure out on our own. From the moment we stepped on the plane at SFO to our return 3 ½ weeks later after experiencing 3 different countries and 7 different lodges. All along we were completely relaxed and excited, fully immersed by the magnificent cultures and experiencing the beauty and hospitality unique to this part of the world. We returned home from Africa once again, both inspired and revitalized.
We began this adventure in beautiful Rwanda, spending the first 3 nights in Kigali, staying at the lovely Retreat by Heaven. We spent 2 full days exploring this beautiful, vibrant, clean city. We learned so much about the culture, the people and the history of Rwanda. We are so glad we took the time to explore Kigali before heading to the mountains. Exploring Kigali was well worth the time and was an excellent way to prepare us for our trip to Volcanos National Part to visit the Mountain Gorillas.
It had been a life-long dream to meet the magnificent Mountain Gorillas face-to-face in their natural habitat. Anna created an experience we will never forget. Our Mountain Gorilla adventure was more incredible and thrilling than we could have ever imagined. These beautiful, gentle creatures seemed to open their hearts and let us connect with them in a way we never expected. The closeness and intimacy of that one-hour visit is something we will hold dear forever.
Anna arranged our lodging at the Sabyinyo Silverback Lodge, unique in that this lodge is just outside Volcanos National park and owned by the community. It was lovely in every way with the hosts and staff welcoming and delightful. I hope to return one day to re-connect with our new friends.
We departed Rwanda and spent 2 weeks in Kenya. Because of Anna's skill and attention to detail, our entry into Kenya was simple and seamless. We stayed 2 nights at the exquisite Hemingways Nairobi Hotel. Started off our safari at beautiful Solio Lodge on the Laikipia Plateau where observed an abundance of rhinoceros, before heading to Maasai Mara. Our trip was timed to see the Great Migration, an awesome experience where we could experience tens of thousands of animals in the beautiful, pristine Maasai Mara landscape. Each game drive felt like dream and always a new adventure. In the Mara we stayed at Sala's Camp and Bateleur Camp. All three camps in Kenya were equally stunning with delightful people hosting us and brilliant, knowledgeable guides that enriched our experiences.
We ended our African adventure with 5 days on the island of Zanzibar at the gorgeous White Sands, relaxing on the beach and enjoying the hospitality of the delightful people of Zanzibar.
Anna and Stars of Africa made this "trip of a lifetime" possible. She listened to what we wanted, then created a personalized trip that surpassed our expectations. Every detail was addressed, we never had to worry about a thing. Anna was always one step ahead of us so there was no need for concern, ever. Our adventure was as perfect and magical as it gets! We only hope we can return for a third trip to Africa…. with Anna at the helm!
What does other clients say