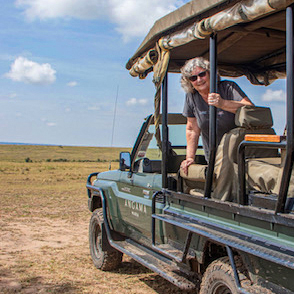 Pat Davidson, Florida - USA
KENYA – SOLO TRAVEL
With my husband's enthusiastic endorsement, I hoist my backpack over my shoulders and board the first of three flights that will land in Kenya 26 hours later.
A dream since childhood, it was time for me to go to Africa. At 69 years of age I wanted to go by myself. I had a clear idea of how I would have long moments of quiet observation. I would write, sketch, and paint. I would experience what Africa had to give by being in the moment and being patient. I knew it would come.
I was unsuccessful in my online searches until I read a blog post by Anna Leidenkrantz. Anna's description of Angama Mara has my attention and I immediately reach out to her. As CEO of Stars of Africa, she has in-depth knowledge and personal experience with many luxury safari lodges throughout Africa. Anna understood exactly what I needed to make my dream a reality. She then presented me with the itinerary that would become my perfect African adventure.
It could not have been a better fit for me. From the moment I arrived in Nairobi, to my departure I was in very capable hands. Each step of the way was orchestrated by Anna.
There were no missteps and everything was communicated clearly and concisely. Any trepidation I may have had was forgotten. Anna of Stars of Africa attended proactively to needs I didn't know I had. I have enjoyed the warm and personal emails that went back and forth as she developed my itinerary. She sent timely information and friendly reminders. Recommendations for books, and music to familiarize myself with the wonderful people and places I would be visiting. Without hesitation, I have recommended Stars of Africa to friends and family.

I can't wait to work with Anna on a future trip, this time with my husband, my favorite travel companion.
What does other clients say