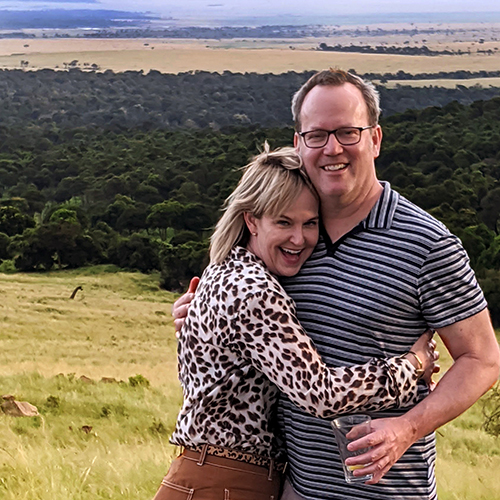 Katy & Rob Hutchins, Atlanta - USA
KENYA & TANZANIA – TRAVELLING WITH FRIENDS
Our first two safaris were both with friends staying at the breathtaking Angama Mara in Maasai Mara, Kenya. For this adventure, we were looking to stay at three different camps in two countries, which would require a detail oriented professional. Enter, Stars of Africa and Anna!
For our trip this February we were joined by a couple of good friends that were experience their very first trip to Africa. From the moment we were greeted at the airport in Nairobi until the time we were escorted to our departing flight in Kilimanjaro, we were completely handled. Crossing the border from Kenya to Tanzania could have been a confusing, frustrating experience if it weren't for the assistance Anna had in place for us to whisk us through the process.
We took the direct flight New York – Nairobi, and spent our first night in Kenya at the lovely Hemingways Nairobi. From there we were off to Mara Plains Camp an intimate Realis & Chateaux small 6 tent camp that was truly magical. Management, staff and our guide were superb. Anna highly recommended our stay there and from the second we crossed the suspended bridge over a stream of hippos, we understood why. We continued on to Angama Mara, just as amazing as the day they opened. Top notch on experience; guiding, food, accommodation, staff and of course unparalleled view over the Mara. Our final camp was Serengeti Under Canvas in Tanzania. This is a more rustic camp with bucket showers, but we felt closer to nature in this setting. Never having experience the Serengeti before, it was an exhilarating visit. A completely different landscape for a completely different experience.
Throughout our two-week seamless vacation, we could feel Anna's expert planning in everything. There is absolutely no way we could have managed the flights and the transfers and the logistics in planning this trip on our own. Traveling with our friends, and sharing this fantastic adventure and memories together, is something we will hold close to our hearts for a very long time.
Several years ago, through a reference from a close friend who works with Stars of Africa, I put my brother and his wife in touch with Anna for a very last minute safari. Within a day, she had put together a wonderful itinerary, flights and lodges included. I also put my sister in touch with Anna for their very first family safari last summer. Being fairly nervous about such an adventure, Anna crafted an itinerary that was thoughtful to their concerns and was able to put them at ease as to what to expect, and they ended up having an absolute marvelous time.
We had planned to return to Africa in 2021, well, the pandemic put the world on hold. However, when the time is right, we cannot wait to get Anna to work her magic again in planning yet another trip of a lifetime under the Stars of Africa. I cannot recommend Anna and Stars of Africa enough. She has been an absolute delight to work with.
What does other clients say