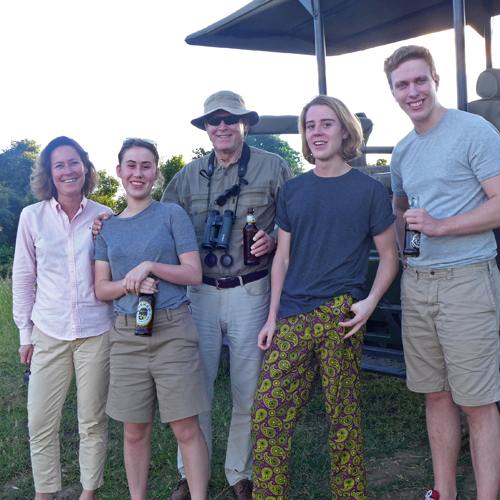 Katarina & Lars Ljungqvist with family - Sweden
KENYA & ZANZIBAR – CHRISTMAS & NEW YEAR FAMILY HOLIDAY
Dear Anna,
Just a note to let you know how much we appreciated our African holiday that you had arranged so thoughtfully, and with such high quality all the way through, that we came home with the most wonderful memories!
The first part of our trip was the Maasai Mara National Reserve. Right after we landed on the little airstrip, we were warmly greeted by our guide Joseph, who had set up a table next to his vehicle serving us coffee, cookies and fruit. Our guide was very experienced, an excellent wildlife guide and driver. He took us on two daily game drives in a perfectly suited Land Cruiser. We saw all the big five, lion, elephants, buffalo, rhino and leopard, during our very first day.

Joseph continuously shared his vast experience with us throughout our stay. A couple of mornings we left at dawn and later had our breakfast under a tree with the most spectacular view over both the Maasai Mara and Serengeti Savannas. Our beautiful tents, the food and the staff at the camp were first class.
After a short stay in Nairobi in the most fantastic hotel, we continued to Zanzibar for a week. This was another first class facility with our accommodation wonderfully located right by the beach. Once again, the staff made all the difference, continuously making sure our stay was as pleasant as possible. One night when we celebrated my wife's birthday they arranged a beautiful dinner for us right on the beach, and surprised us with songs and birthday cake. For New Years Eve they had arranged dinner for everyone on the beach. It was another fantastic week, and we are five very happy family members who forever will remember and treasure the memories from our African adventure over Christmas and New Year.
Many thanks Anna at Stars of Africa for a perfect arrangement!
Katarina & Lars Ljungqvist with family
What does other clients say