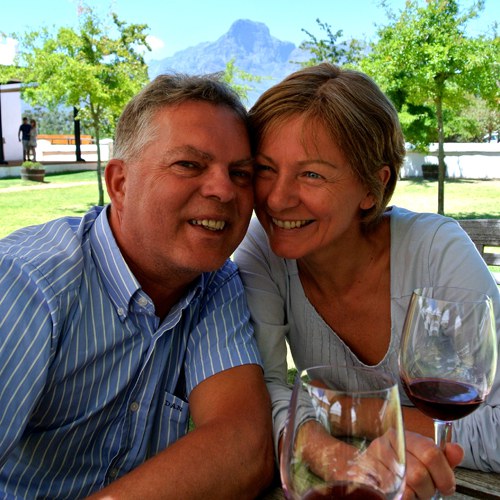 Dan Johansson & Cecilia Lindqvist - Sweden
SOUTH AFRICA – CELEBRATING A SPECIAL ANNIVERSARY
From the moment we arrived in Johannesburg South Africa until we departed two weeks later we were looked after in the best possible way. It was a big pleasant surprise to be met off the airplane and with ease escorted through immigration, customs and baggage claim. Before we knew it we were sitting in a small airplane – just the two of us and the pilot. This was our first time to Africa and the pilot pointed out the African wildlife below us, what an amazing start to an unbelievably exciting adventure!
Landing at the airstrip, we were warmly greeted by the lady who was going to be our safari guide for the next four days. We find it hard to find the right words for how breathtaking we found the African landscape and wildlife – our very experienced guide and her tracker greatly added to our experience.
We so admired their knowledge about animal behavior and their enormous respect for nature that they shared with us.
We learnt a new term "Super Seven" as we were so lucky to see not only the so-called "Big Five"; lion, leopard, elephants, buffalo and rhino, but also cheetah and wild dogs. Absolutely fantastic experiences! The camp staff looked after us so beautifully, offering the best of service, but also fully respecting our privacy. We could not be happier over the excellent choice of safari camp Stars of Africa included in our itinerary.
After our safari we spent a few days in stunningly beautiful Cape Town. It was fantastic to have a guide driving us around for these days, we saw a lot of interesting and beautiful sights and tourist attractions, but our visit to a shantytown made the biggest impression. As South Africa is facing a lot of challenges, we didn't want to ignore this. Stars of Africa's in-depth knowledge about Cape Town and its surroundings were very helpful, the choice of hotel perfect. A wonderful little Boutique Hotel with very friendly, knowledgeable and service-minded staff.
Stars of Africa had arranged for a car to be dropped off our last morning in Cape Town and we drove through the Winelands and onwards along the Garden Route. The last few days were spent in Plettenberg Bay where we celebrated our anniversary, a perfect end to our South African journey!
Stars of Africa planned this very special journey of ours in detail, Anna made perfect choices of Safari Camps and Hotels, all providing extremely high standard and service. We are so happy for our journey and completely satisfied with Stars of Africa's high service level and personal and warm consultation, we would definitely recommend Stars of Africa any day! We have already done so to friends of our in the same situation as us; very busy people in midlife with not enough time to plan an African vacation of a lifetime.
Traveling with Stars of Africa was like traveling with an invisible angel, guiding us all the way – but allowing us to have all the privacy we desire.
What does other clients say