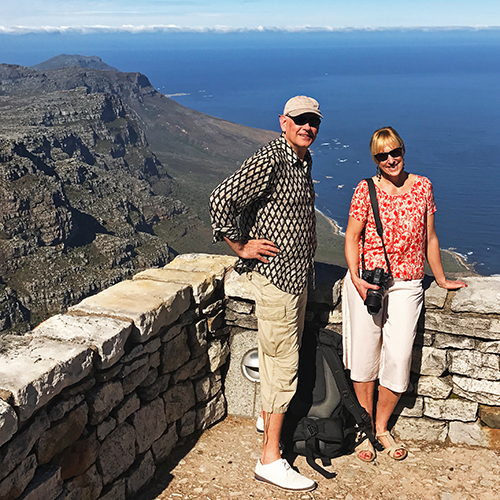 Anna-Karin & Ingvar Ringqvist – Sweden
SOUTH AFRICA – SAFARI, CAPE TOWN, WINELANDS AND THE GARDEN ROUTE
Thank you Anna for arranging a fantastic South African experience for us! All our expectations were exceeded, and they were high to begin with. Everything was beautifully and seamlessly arranged. We experienced a kaleidoscope of color, amazing wildlife, breathtaking landscape, delicious food, and wonderful smiling people.

Arriving to the Timbavati Reserve in a small plane, seeing elephants from above, was a fantastic start to our South African adventure. The staff was wonderful and so service minded. We had a very knowledgeable guide that added tremendously to our safari experience, we had the most amazing sightings during our 4-day safari. The food was excellent and the camp beautiful.
In Cape Town we loved the small, charming Boutique Hotel, situated within walking distance to wonderful restaurants and Kloof Street with its charming shops. We are so happy for our two days of guided tours, our friendly guide took us around the Cape Peninsula and we learned so much about the history and culture of the Cape thanks to him.
We very much enjoyed the self-drive to Stellenbosch and Franschhoek, where we stopped at many lovely vineyards and ate at fantastic restaurants. The drive to Hermanus was so beautiful and we thoroughly enjoyed the ocean and nature at Hermanus and Knysna that provided romantic and special days of hiking in the most stunning landscapes. The staff in the beautiful accommodations you had picked for us in Franschhoek, Hermanus and Knysna were all so helpful and friendly.
Our two weeks in South African provided memories to last a lifetime, and we came home with several memory cards full of excellent photos, and yet we can't wait to go back!
When we return to Africa – it will be with Stars of Africa, we could not be more pleased with the arrangements made by Anna.
What does other clients say