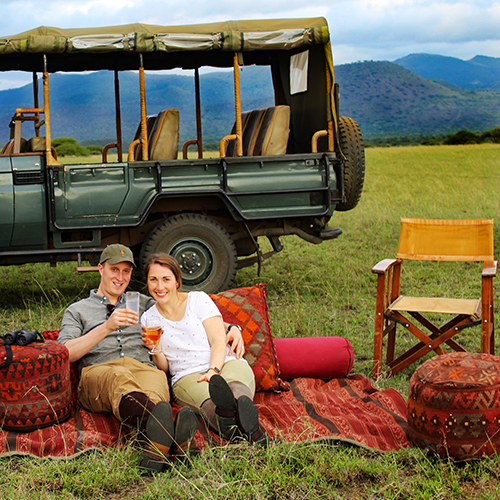 Alina & Paul Middleton, London - UK
RWANDA & KENYA – HONEYMOON ADVENTURE
When looking for a reputable agent to assist us with our African Honeymoon, we were referred by a mutual friend to Stars of Africa, specifically to Anna. From the very beginning Anna was so attentive, listening to our wishes and working with us to offer a selection of itineraries that would best suit our plans. She was so flexible and managed to build an itinerary that perfectly suited what we wanted to do, and the budget we had to do it.
Anna was organized and timely, sharing information we'd need to prepare us for the trip, and offering little updates and stories as we drew closer, building our excitement before setting off!
Once on the trip Anna's hard work really showed, from beginning to end we were so well cared for, every possible detail (and a lot of wonderful surprises along the way!) had been organized. Booking with Starts of Africa meant we could enjoy our Honeymoon together without worrying about anything other than creating special memories, with the amazing itinerary and hospitality Anna arranged, we did exactly that.
We truly had the time of our lives. The start of our Honeymoon at Sabyinyo Silverback Lodge in Rwanda couldn't have been better, the way they looked after us is the ultimate luxury. Meeting the gorillas was a lifelong dream come true.
Hemingways Nairobi was stunning, and again the staff and transfer team were wonderful, so friendly and warm – always happy to answer our questions, we had a lot!
Arriving at ol Donyo Lodge in the Chyulu Hills was like reaching heaven on earth, from the welcome to leaving, we could not have had a better time. We both agreed that this was the best travel experience either of us have had yet. The whole team from top to bottom were amazing, the experience top notch from romantic sun downers to horseback riding with Mt Kilimanjaro as a backdrop. Our guide was truly the kindest most helpful guide we could have imagined – we couldn't recommend this lodge any more.
Finally, onto Kichwa Tembo Camp in the Maasai Mara, we left Ol Donyo with a few animals still on our checklist and this was a great place to see them all on amazing game drives. Our guide was brilliant, and we saw such an array of animals – Lions (inc cubs and large males), Cheetah, Leopard, Spitting Cobra, even the Great Migration had arrived.
Clearly through the expertise, knowledge, and relationships Anna has with the teams on the ground, she's able to ensure her guests have the trip of a lifetime, we're delighted we were introduced to her.
Although naturally our hearts were heavy to say goodbye (or see you later) to this wonderful Honeymoon, we left feeling totally fulfilled by the people, places, and things we'd seen.
Thank you so much for pulling together such a wonderful trip Anna, we shall treasure it always!
What does other clients say