HORSEBACK RIDING SAFARI
AFRICA'S FINEST SAFARIS
For horseback riding enthusiasts, East Africa is classic safari country; one of the world's prime destinations for horseback adventures – merging world-class guides with stunning wilderness camps, and, naturally, the chance to catch glimpses of Africa's iconic mega fauna, from the saddle. Here, in unchartered territory, you will be forging your own path through the landscape, tuned into the rhythm of, not only your horse, but also the wilderness around – truly a magnificent way to experience Kenya's diverse scenery and its awe-inspiring natural world.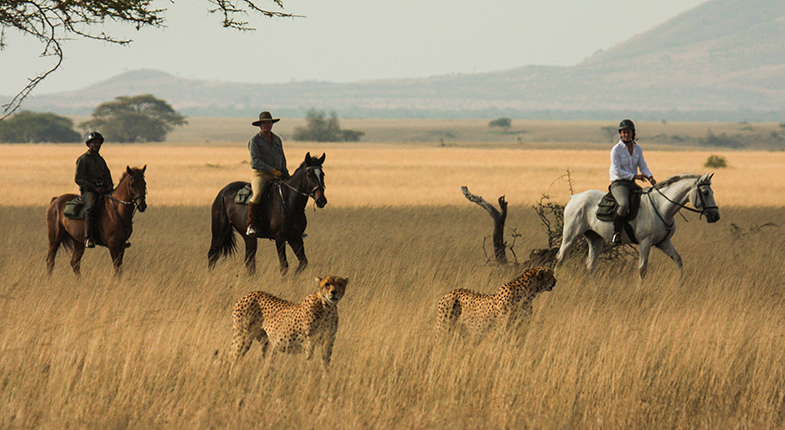 The thunder of hooves and the heavy breathing of a sturdy horse cantering across the African savannah is one of life's most remarkable moments. On a horseback safari, you will be on one of the absolutely best breed of horses, well-trained to handle vastly contrasting scenarios, depending on the terrain, the wildlife, and on the experience of the rider.
Stars of Africa arranges morning and afternoon rides, as well as bespoke multi-day riding safari experiences. The presence of wild game means that riders will be required to have intermediate to advanced riding capability.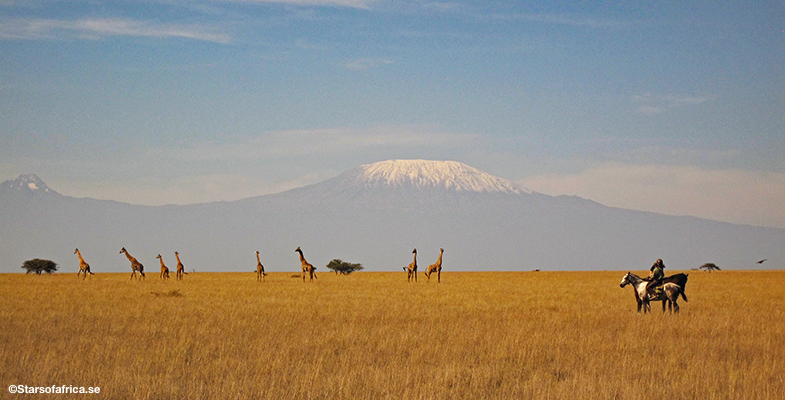 KENYA CHYULU HILLS
The soft volcanic soils and the diversity of the terrain make this region a fantastic and unique riding destination. One can enjoy half-day horseback rides, while staying at the stunningly beautiful Ol Donyo Lodge, or join a multi-day, luxury, mobile horse safari, with a guaranteed set departure, to the Amboseli, or within the majestic Chyulu Hills in Kenya.
On a Ride Kenya Chyulus safari you will follow ancient elephant paths; encounter inquisitive Maasai giraffes and antelopes such as the eland, impala, oryx and Grant's gazelle, not to mention the magnificent, "big tusker" elephant, for which this area is renowned. The adventure takes you past herds of zebras, wildebeests and Thompson's gazelles, and, should luck be on your side, you may even encounter a cheetah or two. There is also the option of riding up into the volcanic Chyulu Hills, at the top of which you can partake in a delicious breakfast in the shade of a Red Hot Poker Tree, whilst enjoying endless views of Mount Kilimanjaro and the surrounding wilderness, from horizon to horizon.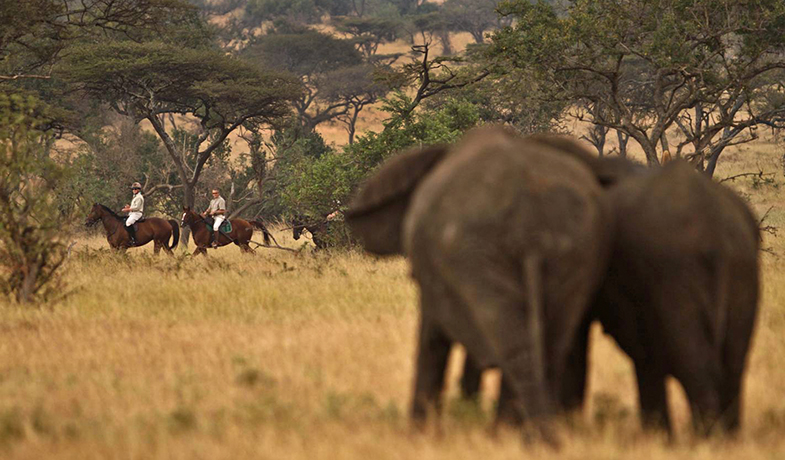 The herd at Ride Kenya Chyulus is comprised of 16 horses – all gentle, responsive and sensible, and immense fun to ride. Not only are they ridden in the bush, but, during their ordinary days, they live amongst the wildlife – free and unfenced. This combination makes for horses that are completely at home in their environment, and an absolute joy to ride. The breeds include the South African Boerperd, one of the few recognized native breeds in Africa, famous for their superior temperament, endurance and versatility. There are also thoroughbreds and some crossbreds, a Somali pony and one purebred, a Percheron Tembo, the only French draught horse in Kenya. They are normally fitted with English bridles and bits, trail or western saddles are also proffered. The stables are set within a beautiful acacia forest at the base of the Chyulu Hills, close to Ol Donyo Lodge. All riders from beginners to advanced can be accommodated.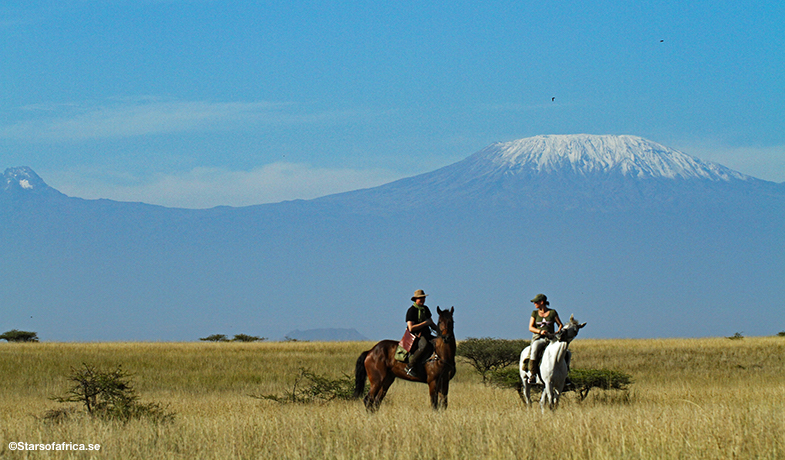 KENYA MAASAI MARA
While staying at the iconic Mara Plains Camp or Mara Expedition Camp, you will be able to ride in the wildlife-rich and exclusive Olare Motorogi, Mara North and Naboisho private conservation regions, as well as in the Maasai Mara itself. With tourist density being so low in the conservation areas, you are more likely to come across the paw print of a lion than the footprint of a human being on your adventures. Wildlife abounds as you cross the tree-dotted plains, cross rivers and ravines and live an extraordinary experience. You find yourself riding in one of Africa's most game-rich wildlife areas – areas of outstanding natural beauty, famous for the annual wildebeest and zebra migrations in their millions, on their annual trek in search of fresh pastures.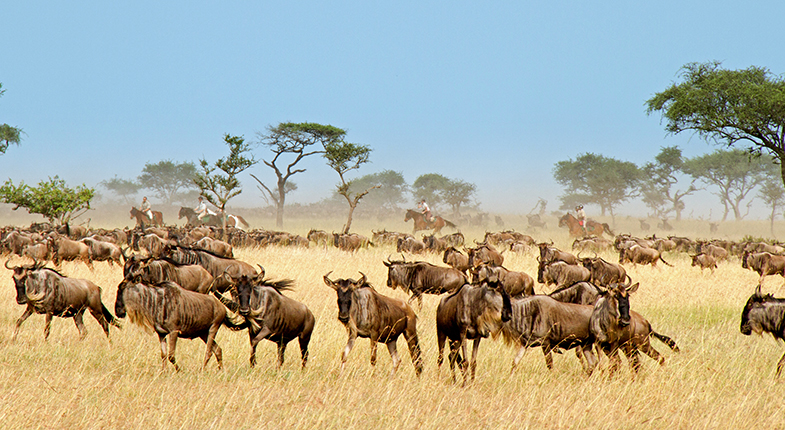 Throughout the year expect to encounter a vast array of plains game – such as elephants, giraffes, buffalos, elands, zebras, wildebeests, topis, Grant's gazelles, graceful impalas, delightful Thompson's gazelles and warthogs, while rivers and pools are home to hippos and crocodiles resting lazily in the water, or on the banks. The Maasai Mara is famous for its big cats, so one needs to be prepared and ever vigilant for sightings of lions, leopards and cheetahs, which follow these antelope herds, as well as on the lookout for the elusive serval and caracal cats – glimpses of which are singularly unique. To experience an early morning, or afternoon, ride throughout this iconic landscape and its majestic wildlife is to create memories that last a lifetime.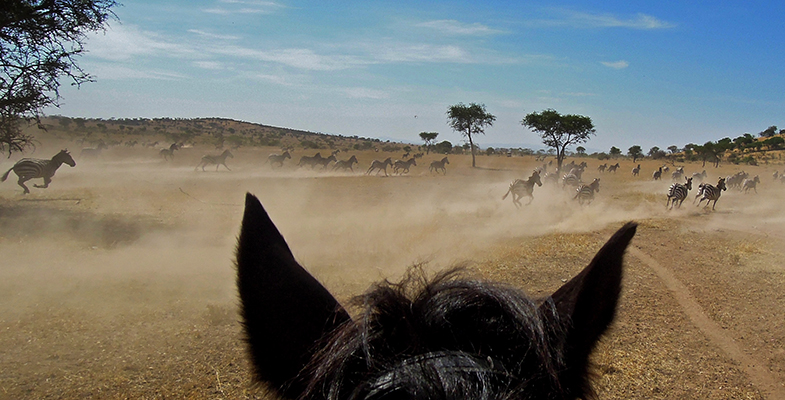 Ride Kenya Mara has an impressive stable of 16 horses close by Mara Plains Camp and Mara Expedition Camp. The horses live in an airy, bespoke stable block, within an acacia forest, overlooking the lush grasslands and riverine woodlands, with the spectacular Siria Escarpment forming an impressive backdrop on the western boundary of the Maasai Mara. The horses are an all-male herd comprising geldings and stallions carefully selected for their comfort and temperament – fun to ride, but evenly tempered. All the horses are imported from South Africa, with breeds that include Friesian and Friesian crosses, Boerperds and Boerperds crosses, Arab crossbreeds as well as thoroughbreds. They are fitted with English bridles and bits, trail or western saddles are also available. All riders, from beginners to advanced, can be accommodated.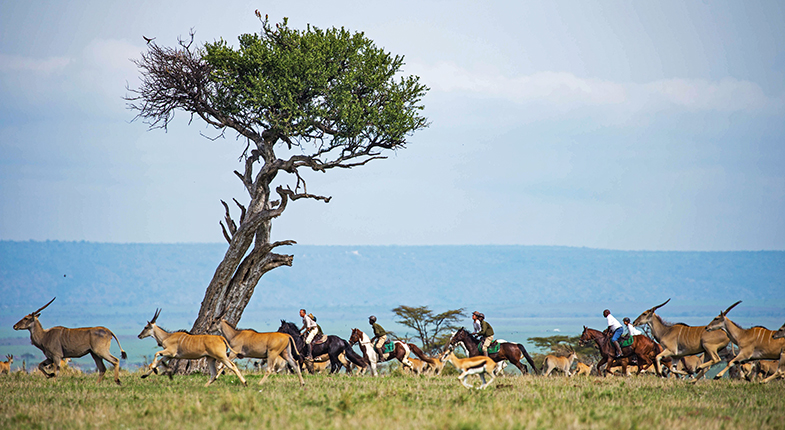 Discover More Inspiration